Is there anything sweeter than the smell of fresh flowers? A simple bouquet can brighten anyone's day — and bring beauty into any space. Almost every week, I find myself selecting a few stems for easy floral arrangements for our home, and the process of selecting and arranging them brings me joy without fail.
Simple Flower Arrangements 101
Get the designer's approach to simple flower arrangements for your home, plus the secret to making your own beautiful bouquet!
Here's the best news of all: floral arranging doesn't have to be complicated. Bringing a bouquet of  fresh flowers into your home is simpler than you think. In fact, you can create a gorgeous arrangement using just one type of flower — and becoming your own florist is a skill you'll treasure for the rest of your life. Truly. It's a relaxing, therapeutic hobby for any age!
If you've followed me for a while, I'm sure you picked up on the fact that flowers are pretty high on my list of loves, right up there with throw pillows and great design. Fresh flowers can transform a space in no time!
Spoiler alert
Every single flower arrangement in this post uses only one flower variety!
The Secrets of Simple Floral Design
If you've never arranged flowers in a vase or jar, it might seem like it'd be a difficult task. I promise, it's not! It's one of the simplest ways to brighten up a room — and the beautiful scent doesn't hurt, either!  I really do believe floral design is for everyone. Simple arrangements are perfect for gifts, centerpieces, and decor. I'm almost exclusively self-taught, but I've picked up some tips and tricks over the years! Here are the floral secrets everyone should know.
Pick your own flowers.
One of my styling "secret weapons" is picking flowers from my yard to arrange inside. Over the years, I've chosen annual and perennial plants that look beautiful in a vase when they bloom. If I want lilacs, hydrangeas, wildflowers, or roses, I simply step outside my door for a free flower-selecting experience.
There's no need to mix it up.
While I like to experiment with artful arrangements, mixing in a variety of flowers and greenery, I often find that when it comes to floral arrangements, simple is better. My ultimate florist secret: one type of flower will do the trick!
If you look closely at the luxurious rooms you find in magazines or on Pinterest, you'll often see simple arrangements with just one type of flower or greenery. In this case, bigger is, in fact, better — make sure you have enough blooms to really fill out the arrangement! Selecting just one flower and creating a full look will offer any space a sophisticated, elevated look.
Making lemonade out of lemons
A few summers ago a huge storm came through Fargo, annihilating my hydrangea tree — so I brought the blooms inside for the hydrangea arrangement of my dreams!
Choosing the Right Vessel
Simple glass vases will always have my vote. They're sleek, clean, and allow the flowers to really shine. My personal favorites are vases that taper in at the neck, because it gives you more control over your blooms as you arrange them, resulting in a full, luxe bouquet. The smaller the vase opening, the more full your arrangement will look.
I also love vessels that are more "pottery" than "vase." I've been known to use drink pitchers to arrange my florals! A pitcher arrangement is super interesting and fun.
At the end of the day, anything that holds water and flowers can be a vase, so don't be afraid to experiment with the decor you already have! Pedestal bowls, utensil holders, and vintage pots are all fantastic choices.
Where to Source Your Stems
If you don't have a backyard garden, that's completely fine! There are so many great options to pick up flowers, and some of them are right in the same stores you're already visiting for errands and groceries. My favorite (or most-recommended) flower spots:
Local grocery stores (I often pick up a bundle or two with my groceries!)
Trader Joe's (I don't have store where I live, but I hear they have fantastic options)
Whole Foods (I don't have this option here either, but it is recommended by many)
Local flower farmers or florists
Garden centers (Often, buying the plant is cheaper than buying cut flowers. After you cut the blooms, plant it in your yard for future flowers!)
Online (I buy most of my flowers from fabulousflorals.com, especially if I have a specific arrangement in mind)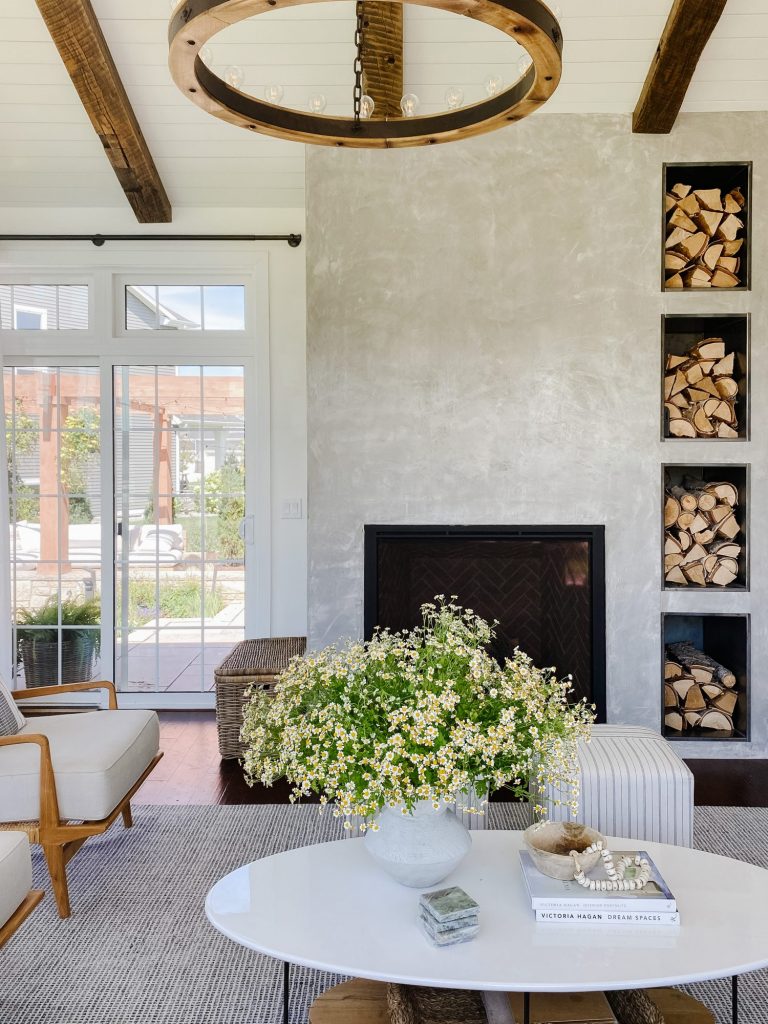 If you're not sure which flowers to buy, ask your local flower farmer or florist. I'll also clue you in to a few of my all-time favorites! These look great in just about any space:
White feverfew daisies
Lilacs
Garden roses
Ranunculus
Hydrangeas
How to Arrange Your Flowers
Now that you have your blooms in hand, it's time to arrange them beautifully. I promise, it's not as complicated as you might assume. To create a simple, but beautiful bouquet:
Cut each stem at an angle so the flower can enjoy fresh water. Remove at least an inch from the bottom.
Pinch off any leaves that fall below the neck of the vase.
Fill your vase halfway to two-thirds full with water.
Add flowers diagonally across the vase, criss-crossing stems and allowing them to fall to each side.
Use the existing diagonal stems to help you position new blooms. Leave some vertical!
You've done it! Enjoy!
Tips and Tricks
If you want to make the most out of your arrangement, these little extra steps will go a long way.
Flower food will help your blooms last longer. Mix it into the water before you place your stems.
Some blooms, like roses, open with time and become fuller. In this case, the centerpiece becomes more beautiful as the days pass! Just refresh the water to keep your flowers happy and fresh.
If you don't like how your final product looks, don't be afraid to adjust. Small tweaks can make a big difference in the overall look of your arrangement!
Simple Flower Arrangement Ideas
Still wondering, "How can I use one type of flower to create gorgeous greenery in my home?" Look no further than these inspiration pictures — you'll be running to your local florist or grocery store to make an arrangement of your own!
Lilacs
Lilac season is short, but the smell they bring into your home is divine, and a white pitcher compliments them beautifully. I have lilac bushes in my yard, but if you don't you can find them online. I've ordered them from fabulousflorals.com in the past.
White feverfew daisies
As you can probably tell from my social media feeds, these are my personal favorite — you'll often see them on display in my own home. When it comes to feverfew daisies, I say go big or go home. I get 3 bundles from fabulousflorals.com when I need a fix, and I think this is the perfect vase for them.
Dried flower arrangements
I wanted to offer you a "bigger isn't better" example! You've heard it from me before — there are exceptions to nearly every design guideline. This room doesn't offer much surface space, so a large arrangement would be overwhelming and impractical. A smaller group of dried flowers will last and last, too!
I picked up the purple oregano stems online, but you can dry them yourselves too. The dried hydrangeas are from my own yard. Hydrangeas dry beautifully and can last you all year — I even use them in my holiday decor!
Peonies
Peonies are another beautiful seasonal favorite. I cut blooms from the white peony bushes in my yard. (Tip: don't cut more than ⅓ to ¼ the stems in bloom, as peonies don't regrow foliage when cut back. Cutting too many can leave your peony bushes weak.) No peony bushes? They're easy to find online in the spring, or if you're lucky, in your local grocery store.
Snapdragons
Snapdragons are beautiful on their own, so they don't need much styling. Simply gather them into a tall vase and watch them shine. I get snapdragons online and from local stores when I'm lucky enough to spot them. There are also a lot of good faux snapdragons out there if fresh flowers aren't your thing!
Baby's breath
While baby's breath is usually considered a "filler flower", it can absolutely stand on its own in a larger bouquet. I used two bundles here. It's super easy to find, and it dries beautifully in place, so you can enjoy it for a long while.
White cosmos
I'm a big fan of the wildflower look, and cosmos look effortless and beautiful as a simple arrangement gathered in a vase. We planted lots of cosmos at our lake cabin earlier this summer, and I can't wait until it's time to bring some inside. If you don't have any space to grow wildflowers, you can always find them online.
Hydrangeas
Hydrangeas can be found in my home year round, and they come straight from my backyard. You can usually find them at local flower or grocery stores — but when I bring them straight in from the yard and place them in water, they last longer than any retail option.
Hydrangeas steal the show, whether it's a single stem or a huge bundle. I have three varieties in my yard: limelight hydrangeas, big leaf mophead hydrangeas, and quick fire hydrangeas.
Just like peonies, be careful not to trim more than ⅓ of your hydrangea blooms. Luckily, a few hydrangeas go a long way!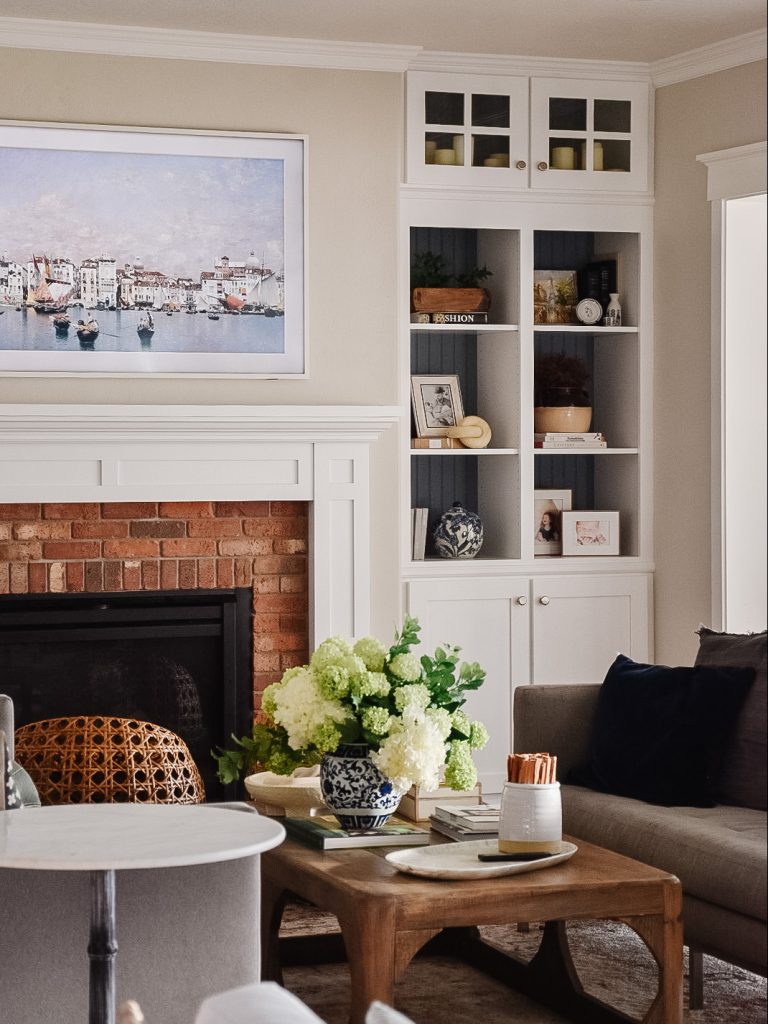 Roses
A tried and true classic you can find anywhere. Personally, I like to leave as many leaves on roses as possible for a wilder look. There are also some fantastic faux roses out there too — just don't forget to add water to the vase for a realistic look.
Tall branches
Floral arranging isn't limited to flowers! You can make stunning arrangements with just branches. Simply bring in a few branches indoors the next time you trim your trees, or keep a pair of clippers in your purse for when you spot the perfect branch when out and about! (Just make sure you're not on private property.) There are also lots of realistic fake branches available online and in stores like Target.
Did you see a product you love in one of the pictures? You can shop our entire home by room via our Shop My Home page here.
Looking for more design tips & inspiration?
How to Style Your Home & Shop Like an Interior Designer
How to Choose & Style Throw Pillows
5 Easy Ways to Add Character to a New Home