The best easy guacamole recipe with red onion, cilantro, jalapeño, pineapple and lime!
A tried and true Sullivan family favorite. This simple, quick recipe is sure to be a hit at parties and with your kids. Serve with tacos, chips, and a side of fun!
I swear you'll be saying, "Holy guacamole!" after you taste this quick and easy guacamole. Of the few recipes I have come up with, this is the one I am most proud of. In general, I am more of a read the cookbook and measure it out exactly as instructed slowly and carefully type of chef. I'm not sure how I came up with this recipe, but on a hot summer day inspiration struck and I've been refining it ever since.
The best part about this recipe is it is quick. We're all busy; who has time to slave over their food? But that doesn't mean we don't want it to taste delicious. All this dip takes is two avocados, half a jalapeño, some red onion, cilantro, a few pineapple slices, a lot of lime juice, some salt and some mashing, then voila! You're done!
How to pick perfectly ripe avocados every time.
The real secret to making sure your guacamole turns out rave worthy is finding the perfect avocados. You're looking for avocados that are dark green on the outside and that yield to gentle pressure. The avocado should feel soft, yet firm, like the palm of your hand. If the avocado does not yield to gentle pressure it will be ripe in a couple of days. If the avocado feels mushy or very soft to the touch it may be overripe; Don't buy it.
However, color and even touch can sometimes be misleading. To make sure I'm taking home an avocado that's perfectly green and creamy on the inside, I always discreetly check under the stem. I peel back the cap at the top of the avocado and if it comes away easily and it's completely green underneath I take that baby home. On the other hand, if I see any fleck of brown I know it's overripe and I leave it behind. An unripe avocado's stem will be hard to peel off. These are good candidates if you plan to delay making the dip for a few days.
I've already mentioned this recipe is quick, but chopping all those ingredients was really killing my speed. Enter the Ninja Express Chop. I throw everything, but the avocados and seasoning, in and the ingredients are chopped in literally seconds. I will never go back to chopping my own ingredients again.
I tend to like the red onions chunkier than my other ingredients, so I use the Ninja to chop the onion separately. The rest of the ingredients I chop together. I cut into the jalapeño a few times and clip off a bunch of cilantro leaves, then throw them in the Ninja with some chunks of pineapple, until they are finely shredded.
When it comes to the seasoning portion, I tend to wing it and judge by taste. Some days you just need a little more salt, amiright! And obviously avocados can vary in size, which may lead to some small, but necessary, adjustments.
I have included tried & true quantities in the recipe below. This easy family and party-friendly recipe, won't let you down. However, once you get the hang of it, don't be afraid to have a little fun! The measurements below are a good starting point, but I recommend using your own taste buds to get it just right.
When the recipe is complete, the next step is simply to enjoy! While this guacamole may taste like a treat, it's actually pretty good for you. Did you know avocados have more potassium than even bananas? This guacamole recipe is also vegan, keto, paleo and Whole30 friendly.
As is evident below, this is one of E's favorite treats, so we tend to eat up the whole batch in one sitting. If you don't, make sure you seal the guacamole with plastic wrap before putting it in the fridge. Even with a whole bunch of lime, the avocado will still brown quickly.
I hope you enjoy this delicious, family friendly recipe!
Did you give it a try? Let us know how your guacamole turned out in the comments. If you have any advice for other readers, feel free to share that too!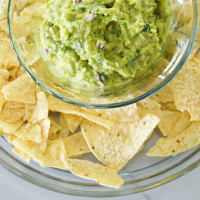 The Best Quick & Easy Guacamole
A tried and true Sullivan family favorite. This simple, quick recipe is sure to be a hit at parties and with your kids. Serve with tacos, chips, and a side of fun.
Ingredients
2

avocados

1/4

cup

red onion chopped

about 1/3 onion

1/4

cup

pineapple finely chopped

5 1x1 in. slices

2

tbsp

cilantro finely chopped

about 3 tbsp uncapped

1/2

jalapeño

remove the seeds for a more mild dip, keep the seeds if you like it spicy

3 1/2

tbsp

lime juice

1/4

tsp

kosher salt
Instructions
Cut the avocados in half and then remove the pit. An easy way is to cut it length-wise around the pit and than using a chef's knife strike the pit and then twist the knife so you can easily remove the pit and scoop out the flesh.

Scoop out the avocados and place in a medium bowl.

Add in red onion, pineapple, cilantro and jalapeño.

Add lime juice and use a fork to mash and stir mixture together until smooth.

Add salt and stir into mixture.

Taste the guacamole and adjust seasoning if necessary. We recommend starting with lime juice and then adding more salt if it still needs a little more kick.

Enjoy immediately!
Nutrition
© Pretty Domesticated