It's easier stay hydrated when your H2O tastes and looks like a fruity summertime treat. Here's how to infuse your water with fruit, herbs and more, featuring one of our favorite berry combinations – black cherries and blueberries.
Let's admit it – It's really hard to get those 8 glasses of water in a day. Personally, I am terrible at drinking enough water, despite trying to maintain a relatively healthy diet. Other than having a major weakness for homemade dessert, water consumption is one of my greatest health related weaknesses and a major player in the midday headaches I sometimes experience. (Sidenote: I consider my love for desserts like chocolate chip cookies, more of an appreciation than a weakness.)
That's the beauty of fruit-infused water. You get all of the benefits of drinking water with far more flavor. Infusing water with the essence of fruits, herbs, and other botanicals helps you stay hydrated without the downside of excess calories, sugars, and artificial flavorings. It's just like drinking water – refreshing and thirst-quenching – but better.  It's also super easy and inexpensive.
One of our favorite infused water combinations is mint, black cherries and blueberries. This berry infused water recipe takes 10 minutes and uses only 5 ingredients! Not to mention, it's beautiful appearance makes it a great option for your next party or family gathering.
But there are a few things you should know before you make fruit, herb or even vegetable infused water so it tastes as good as it is good for you.
How to Make Fruit Infused Water – Our Best Tips
Making fruit infused water is pretty simple. Place the water in a pitcher or a bowl, add your ingredients, stir and chill for a few hours or overnight. Before serving give the water a stir and pour over ice. Then garnish with additional fresh ingredients if desired.
Prepping Your Ingredients
Choose organic fruit if you can. Wash all your produce to remove dirt and pesticides even if you plan to peel them. Dirt can get dragged into the fruit when you cut into it. I recommend cutting up most fruits, since it will add flavor quicker. Softer fruits like citrus and strawberries can be sliced thick, thin, halved, or quartered. Harder fruits like apples should be sliced very thinly because they take longer to release flavors. It helps to crush leafy herbs like mint, basil, and cilantro to release their oils, while loose herbs and flowers can be corralled in a tea infuser. You can leave berries, like the ones used in the berry infused water recipe below, whole.
Party Note
We love using citrus fruits and whole berries for larger gatherings because they look beautiful even after a few hours, while melons and sliced strawberries will started looking waterlogged. But beware, when using citrus fruits, like oranges, the water can get bitter over time. Try infusing the citrus water in the fridge for a 3-4 hours. Then before serving discard and replace the citrus with fresh fruit for a beautiful look.
Soak Time and Temperature
You can use tap or filtered water but make sure it's cold or room temperature water. Hot water makes produce fall apart faster and can compromise the produces nutrients.
Don't keep fruit infused water unrefrigerated for more than two hours. Fruit, like any fresh food, will spoil quicker when left out. Keeping it in the fridge when it's not in use will prevent bacterial growth.
Refill your infused drink with additional water periodically as you drink it. It will be weaker than the first sip, but still delicious.
Infused Water Combinations
You can really use whatever fruit you have on hand to make infused water. You can use lemon, lime, blueberries, raspberries, pineapple or grapefruit. The list is endless! Don't be afraid to experiment with spices and herbs, like ginger, cinnamon sticks, rosemary, basil, cilantro or even lavender. Vegetables aren't out the question either. After all, cucumber is an infused water staple.
Here are some combinations we love:
Lemon + raspberry + rosemary
Strawberry + lemon + basil
Cucumber + orange
Lemon + thyme
Orange + blueberry + basil
Cucumber + mint + jalapeno
Orange + cinnamon + cardamom + cloves
Watermelon + mint
Blueberry + mango
Grapefruit + rosemary
Which fruits should I use if I want to quickly flavor water?
Cucumbers, citrus fruits, melons, and mint flavor water almost immediately. Avoid apples, cinnamon and rosemary as they need an overnight soak in the fridge.
Can you eat the fruit after infusing water?
You can use the leftover fruits to prepare lots of different recipes. Add it to your morning oatmeal or blend into a smoothie.
How long can you keep fruit infused water in the fridge?
You can keep the fruit in the water for 24 hours. After that strain out the solids and refrigerate for up to 3 days.
Is fruit infused water healthy?
It's pretty much as healthy as it gets. It's made with only water and fruit, so it's a great substitute for soda, juice or other artificially sweetened drinks. The recipe below uses the natural sweetener Stevia, but it's not necessary. Skip it for a completely unsweetened drink.
Can you use frozen fruit when infusing water?
Yes! I generally prefer to use fresh fruit, but frozen fruit works great too. Frozen fruit is a great option in the summer, when you crave a colder, more refreshing drink.
If you use this recipe to stay hydrated please come back to share using my 5-star rating in the comments below! Or if you come up with your own winning share it with us here or on Instagram!
Hungry for more recipes and home tips? Sign up for my newsletter to get amazing content sent directly to your mailbox.
More Recipes That Are Perfect for Summer
Rustic Blueberry Lemon Tart
Easy Raspberry Mousse
Pineapple Guacamole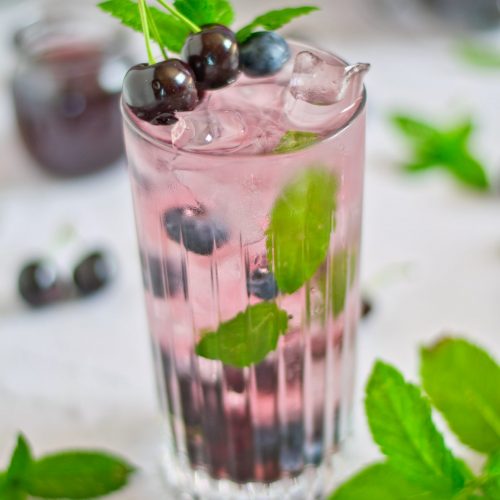 Berry Infused Water
This fruit-infused berry water recipe is a delicious and colorful way to stay hydrated, especially in summer. Eat the fruit for a high-fiber and hydrating vegan drink!
Ingredients
1

cup

Black Cherries

1

cup

Blackberries

8

cups

Water

2

tbsp

Stevia

or as you like

1

bunch

Mint
Instructions
Place the water in a pitcher or a large bowl. Add Black Cherries, blueberries, and mint.

Add the stevia to your infuse and stir well until it is perfectly melted.

Refrigerate for at least 3 hours or up to 2 days.

Before serving remember to remix the infuse well.

Serve over ice, garnished with fresh black cherries, blueberries, and mint, if desired.
Nutrition
Serving:
1
drink
,
Calories:
24
kcal
(1%)
,
Carbohydrates:
6
g
(2%)
,
Protein:
1
g
(2%)
,
Fat:
1
g
(2%)
,
Saturated Fat:
1
g
(6%)
,
Polyunsaturated Fat:
1
g
,
Monounsaturated Fat:
1
g
,
Sodium:
17
mg
(1%)
,
Potassium:
87
mg
(2%)
,
Fiber:
2
g
(8%)
,
Sugar:
3
g
(3%)
,
Vitamin A:
411
IU
(8%)
,
Vitamin C:
8
mg
(10%)
,
Calcium:
22
mg
(2%)
,
Iron:
1
mg
(6%)
© Pretty Domesticated