Holiday Cake Recipe – Chocolate Coffee Cake with Whipped Mascarpone Frosting for Christmas
Enjoy the flavors of the season with chocolate Christmas cake – a fun and festive holiday dessert. This is a recipe that's perfect for winter. Chocolate coffee cake with unique whipped Mascarpone frosting will be the hit of your Christmas get together! Dreamy and full of holiday flavor, don't skip this recipe!
Why should you make a chocolate coffee cake this holiday?
When the holiday's roll around I survive on two things to get me through decking the halls, wrapping gifts and hosting my family, and that's coffee and sugar. But I'm a mom and that means I'm all about efficiency. Enter my holiday cake, where I've combined my two great loves (other than my family, of course) –  chocolate and coffee.
This chocolate coffee cake recipe is sure to impress your guests. One, everyone makes holiday cookies, but does everyone make a holiday cake? I think not. Two, it sounds fancy. Throw in words like mascarpone frosting, espresso and naked cake, and people might even think you went to culinary school, when really, you're whipping up a pretty basic chocolate cake. You may even impress your mother-in-law, but let's not get carried away. I'm not a miracle worker, I just know a good cake when I taste one.
How to Make Chocolate Coffee Cake
While this chocolate cake looks fancy, you'll love how easy this holiday cake is to make. When making the cake layers follow these tips to ensure your cakes rise and bake well:
Preheat your oven for 30 minutes prior to baking.
Use quality pans like Fat Daddio, which are designed to heats evenly with no hot spots.
Spray your pans with nonstick spray and line with parchment paper.
Use room temperature wet ingredients (Other than coffee).
Use hot coffee.
Use fresh baking soda and powder – no more than 6 months old.
Don't over bake your cake layers. Bake until a toothpick inserted into the middle of the cake comes out with a few moist crumbs on it.
Why I Always Put Coffee in Chocolate Cake
I love a chocolate cake recipe with coffee. While I love the taste of a strong cup of coffee, adding coffee to chocolate cake won't make your cake taste like espresso. Rather adding coffee to chocolate cake simply enhances and deepens the chocolate taste in the cake. If you use coffee in a chocolate cake recipe you'll get a more chocolaty cake! This Christmas cake will be hit with chocolate lovers, regardless of if they love coffee!
With that said, if you're strongly opposed to using coffee, you can swap it out for water.
The Best Whipped Mascarpone Frosting
The idea of a whipped frosting sounded perfect for this rich, flavorful chocolate holiday cake, but I wanted to do something a little more unique so it felt as special as the holiday season. I thought about using cream cheese, but settled on using mascarpone cheese for the frosting. 
Mascarpone is an Italian cream cheese that is rich and creamy, without the sour taste of American cream cheese. Mascarpone also has a higher fat content than cream cheese, which makes its a great way to stabilize a whipped frosting. The combination of heavy whipping cream with Mascarpone cheese creates a fluffy & airy frosting that actually holds its shape.
Mascarpone has a slight tartness to it that I think pairs beautifully with the richness of this chocolate holiday cake.
How to make the best whipped mascarpone frosting:
Sift your confectioners' sugar.
Use slightly cold mascarpone cheese.
Use heavy whipping cream.
Beat for 5 minutes.
Stir by hand before using.
How To Assemble & Frost Your Holiday Cake
These pictures are from when I first made this chocolate coffee cake in 2018. While my decorating certainly isn't bad here, my cake decorating skills have come a long way since then, particularly when it comes to leveling and frosting a cake. 
I now use the following tools when decorating a cake (You can do it with just a knife and plate like I did here too. It will still taste just as delicious!):
A quick note about frosting this chocolate coffee cake  –  make sure to chill the cake in the freezer for at least 15 minutes after you've stacked the layers and before you frost the outside of the cake. This helps crumbs stay in place, so that when you go to frost the cake in a naked style, you don't have crumbs in your way!
If you want your cake to be completely covered in frosting, I recommend you double the mascarpone frosting recipe. Personally, with the slight tartness mascarpone brings to the frosting, I love the balance of a partially frosted cake with the richness of the chocolate cake.
Decorating Your Chocolate Holiday Cake
Sugared cranberries and rosemary sprigs scream Christmas cake to me and are one of my favorite ways to decorate a holiday cake. To decorate my chocolate coffee cake, I piled my sugar cranberries on top of the mascarpone frosting in a moon shape for an asymmetrical look. 
Here our some other decorating suggestions:
Orange slices with rosemary 
Raspberries and rosemary
Hershey's Toffee Bits
Candy canes or peppermint bark
Strawberries with crushed Graham Crackers (A great option if you make this cake outside of the holiday season.)
Pair Your Chocolate Holiday Cake with Hot Cocoa & Homemade Whip Cream
A chocolate cake recipe with coffee and hot cocoa are a match made in holiday heaven. I like to dress up store bought cocoa with a drop of peppermint oil and some homemade whip cream.
To make whip cream, use an electric mixer to beat 1 c. heavy cream, 1/2 tsp. vanilla extract and 2 tbs. granulated sugar until fluffy. 
Did you use our Chocolate Coffee Cake with Whipped Mascarpone Frosting recipe ? Rate the recipe in the comments, then follow me @prettydomesticated and share your cake with me using the hashtag #prettydomesticated!
Please feel free to pin and share our holiday cake recipe. For even more great stuff follow us on Pinterest!
Other Holiday Posts You'll Love
2018 Holiday Home Tour + Video
How To Keep Garland Fresh All Season Long
The Five Best Christmas Pins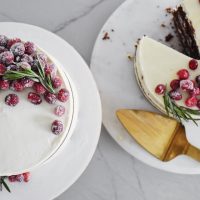 Chocolate Coffee Cake with Mascarpone Frosting
Enjoy the flavors of the season with this chocolate holiday cake – a fun and festive dessert made with coffee for a rich chocolaty flavor. Chocolate coffee cake with unique whipped Mascarpone frosting will be the hit of your Christmas get together!
Ingredients
Chocolate Coffee Cake
3

c.

all-purpose flour

3

c.

granulated sugar

1 ½

c.

unsweetened cocoa powder

1

tbs.

baking soda

1 ¾

tsp.

baking powder

1 ½

tsp.

kosher salt

4

large eggs

1 ½

c.

buttermilk

½

c.

canola oil

2

tsp.

vanilla extract

1 ½

c.

hot coffee
Whipped Mascarpone Frosting
2

c.

heavy cream

cold

2

c.

confectioners' sugar

sifted

2

tsp.

vanilla extract

Pinch

of kosher salt

16

oz.

mascarpone cheese

chilled (two 8 oz. containers)
Sugared Cranberries
½

c.

water

¾

c.

granulated sugar

divided

1

c.

cranberries
Instructions
To make the cake
Preheat the oven to 350°. Grease and line the bottom of three 8-inch cake pans with parchment paper.

In a stand mixer with paddle attachment, mix together flour, sugar, cocoa, baking soda, baking powder and salt on a low speed until well combined.

Add eggs, buttermilk, canola oil, vanilla and hot coffee, and beat on a medium speed until smooth.

Divide batter evenly among the three pans.

Bake for 30-35 minutes until a toothpick inserted in the center comes out clean.

Let cool in pans for 15 minutes, and then turn cakes upside down onto a cooling rack.
To make the frosting
In a large bowl, combine heavy cream, confectioners' sugar, vanilla extract and salt.

Beat with an electric mixer on high speed until the cream holds a soft peak. (About 5 minutes)

Add the slightly chilled mascarpone cheese and whip until blended.

Stir by hand to remove air bubbles before frosting cake.
To make the cranberries
In a small pot, whisk water and ½ c. of sugar to combine. Bring to a simmer and whisk until sugar is dissolved.

Remove from heat and stir in cranberries until they are well coated.

Using a slotted spoon, transfer cranberries to a baking sheet and let dry for at least 1 hour.

Roll cranberries in remaining sugar until well coated. Let dry for a least 1 hour.
Assembly
Place the first cake layer, top side up, in the center of a cake board or cake stand. 

Add about 3/4 to 1 cup of frosting. Spread over the cake layer as evenly as possible. Make sure to get eye level with the cake to ensure the frosting is spread evenly over the cake.

Repeat first two steps until you get to the final cake layer, which you will lay top side down.

Chill the cake for 15 minutes before applying any crumb coat. (This helps to keep the crumbs locked to the cake if you're doing a semi-naked cake and won't be doing a final coat of frosting).

Once the cake is chilled, frost the cake with the whipped frosting to create a semi-naked cake layer. This recipe doesn't make enough frosting to completely cover the cake. Double the frosting recipe if you want to get more coverage with your frosting.

Decorate with cranberries as desired.

Add in a few sprigs of rosemary for some extra seasonal cheer.
Notes
Makes 1 3-layer 8-inch cake or 1 4-Layer 6-inch cake.
Next time I make this cake, I'm going to add cranberry puree between the cake layers for a truly holiday inspired chocolate cake.
Substitutions
Add strawberries and crushed graham crackers to the top, for a year-round cake. The flavors of this cake work outside of Christmas too!
You can use hot water instead of coffee for more subtle flavor. The coffee brings out the chocolate taste.
Nutrition
Serving:
1
g
,
Calories:
610
kcal
(31%)
,
Carbohydrates:
109
g
(36%)
,
Protein:
11
g
(22%)
,
Fat:
29
g
(45%)
,
Saturated Fat:
14
g
(88%)
,
Polyunsaturated Fat:
2
g
,
Monounsaturated Fat:
8
g
,
Trans Fat:
1
g
,
Cholesterol:
90
mg
(30%)
,
Sodium:
412
mg
(18%)
,
Potassium:
383
mg
(11%)
,
Fiber:
7
g
(29%)
,
Sugar:
46
g
(51%)
,
Vitamin A:
749
IU
(15%)
,
Vitamin C:
2
mg
(2%)
,
Calcium:
128
mg
(13%)
,
Iron:
4
mg
(22%)
© Pretty Domesticated